| | |
| --- | --- |
| Publisher: | LTGAMES GLOBAL |
| Genre: | Role-playing |
| Latest Version: | 1.1.1 |
| MOD Info: | APK Only |
| Requires: | Android |
| Size: | 157M |
| Price: | FREE |
| Last Updated: | 02/11/2020 (1 year ago) |
| Get it on: | |
Embark on a dangerous adventure as a mortal, your goal is to bring light to the dark world in Immortal: Reborn APK. Download the latest version for Android now, follow our link below.
Introducing Immortal: Reborn
Immortal: Reborn is a game produced and released by LTGAMES GLOBAL. This is a role-playing game combined with idle mobile elements and Diablo-esque. Coming to this game, you will be able to participate in the journey of reincarnation of God when you are reborn into a mortal body. From there, God begins a new journey to protect and prevent the destruction it will cause to the world.
Context
From centuries ago, a number of rebellious and evil forces began to fight and caused the bloodshed of millions of people as well as trillions of animals and plants involved. The gods lost the battle and lost all their power Since then, the world was engulfed in darkness and mourning and death. Once an evil force continues to dominate the world, a new force will surely be born in the future to maintain balance in the world. The Gods who had lost their power before reincarnating into mortal bodies. Since then, people with a special mission continue their journey to find light for the world.
Gameplay
Immortal: Reborn opens up a series of battles and many precious rewards. Players can choose from 1 of over 7 different professions to choose from. You can hold it for as long as you want and move on with ease. Each career will have different functions and characteristics. Thanks to this feature, you can explore all of the professions in Immortal: Reborn.
You can transform into a good Hunter, or a Merchant or become an Educator,… Each career will have 5 combat characteristics including Pow, Wis, Lck, End, Agi. Depending on the type of occupation you choose, they will have different stats. If you are an active, attacking person then I recommend choosing an Officer or Civilian because they possess high damage stats.
At Immortal: Reborn, the player's opponents are also very diverse. They can be mutant creatures like Scarecrow, Frog, Locust, or Golbin. In the battles, the characters will appear as cards and fight in turns. Therefore, this game is more about tactics than displaying combat skills.
Become stronger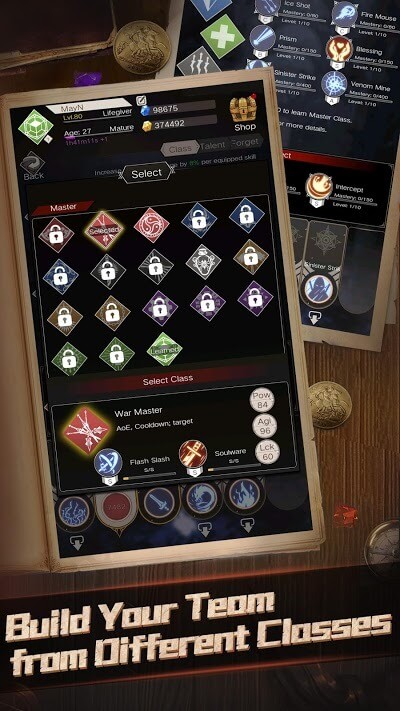 The higher up, the monsters become more difficult to deal with. So you need to improve your strength by upgrading your character's skills. Use the reels (Including normal, advanced, and main) to level up. You can collect those reels by collecting them through battles, quests, and events. Also, unlocking the runes upon reaching a certain condition is also a good way to increase stats.
Increase income all the time
This is the element of idle built into Immortal: Reborn. When you're online or offline, your team will continue fighting. And when you return, you will receive the corresponding rewards.
Characters and weapons
Immortal: Reborn has over 40 different characters for players to choose from and build a squad. In addition to increasing character stats, you can also equip weapons and armor with more than 30 types to choose from.
Install Immortal: Reborn APK
To install Immortal: Reborn APK, you need to do some of the steps below.
Download the Immortal: Reborn APK file provided by us.
Proceed to install the APK as usual.
Open and enjoy.
Download Immortal: Reborn APK for Android
If you go deep into the plot of Immortal: Reborn, you will be overwhelmed with the magnificence that this game brings. With tons of stories and quests revolving around the lives of souls wishing to fulfill their past life's wishes. For sure Immortal: Reborn APK is a game worth trying.