Following the super product Merge Dragon, the publisher of Gram Games has released a game in the style of fantasy mythology called Merge Magic. Download now Merge Magic MOD APK version to experience many interesting stories here.
Overview information
| | |
| --- | --- |
| Publisher | Gram Games Limited |
| Category | Puzzle |
| Version | 2.8.0 |
| Size | 118M |
| MOD Features | Free Shopping |
| Get it on | Google Play |
| Rating | |
Introducing Merge Magic
As mentioned above, Gram Games is a publisher that is too familiar in the gaming community to own cult titles like Merge Dragon, 1010!,… and now Merge Magic. Retaining its unique unified style of puzzle-solving, Merge Magic opens up a story of adventure with mysterious and fascinating creatures.
Context
Merge Magic opens up a beautiful garden, this is inhabited by mysterious creatures with extraordinary powers. Unfortunately, the garden was given a death curse by the wicked witch. Out of nowhere dark creatures began to attack the garden. To protect against monsters from invading this beautiful land, you will stand up with fantasy creatures here and fight against this dark force.
Gameplay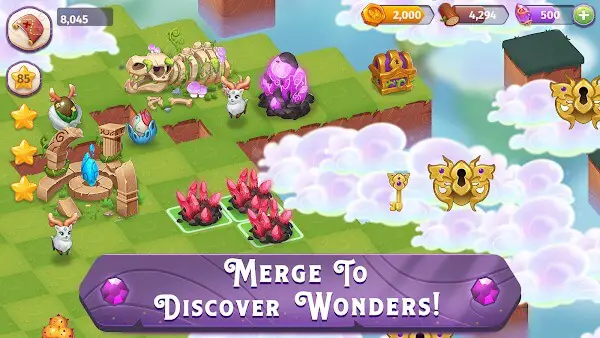 Your only task in the Merge Magic is to try to dispel the curse the witch threw down the garden. There are more than 80 levels with many extremely difficult challenges that you will have to overcome. Merge eggs will create fairy creatures and they will help you fight the dark forces. There are more than 500 mystical creatures such as unicorns, mermaids, fairies,… and many unique hybrid creatures such as peacocks and butterflies. Each creature has its own characteristics and fighting style. You can participate in events to receive more advanced creatures.
Completing a game screen, you will receive many valuable rewards. They will be gold coins, logs and luck can be gems. Using them, you can exchange more equipment or summoned beasts eggs for a more powerful army.
Build warehouse of money
Merge Magic requires you to have a warehouse to store the money you collect. You just need to choose the desired location, the fairy creatures will help you complete this warehouse. Once completed you will receive a free coin. However, a warehouse will have a limit to storing a certain amount of money and if full, you won't be able to collect any more money. Because to avoid affecting your income, you need to regularly upgrade your warehouse. By building more coin storage buildings and merging to create a higher level storage warehouse.
Selling unnecessary items
In addition to earning money by collecting rewards, you can also sell leftovers to earn extra income. The advice is not to sell eggs or blessing trees, they are quite hard to make back. You should only sell dead trees or other common objects.
Regenerate garden
After you have dispelled the curse, it's time to restore the garden to its original form. You can create lots of funny houses or magnificent buildings by consolidating everything. It is also inhabited by fairy creatures.
MOD APK version of Merge Magic
MOD feature
Download Merge Magic MOD APK for Android
Although this unified puzzle genre is no stranger to the past, Merge Magic still knows how to become more engaging. If you want to explore the fantasy world, why not download and experience the Merge Magic MOD APK we provide?