The leading shooter game in India – MPL Rogue Heist APK has been officially released on Android. Download the latest version and participate in the most exciting survival battles on mobile.
Overview information
| | |
| --- | --- |
| Publisher | MPL - Mobile Premier League |
| Category | Action |
| Version | 1.42.0 |
| Size | 880M |
| MOD Features | No |
| Get it on | Google Play |
| Rating | |
Introducing MPL Rogue Heist
We can see that 2017 is the boom year for battle royale survival games on both PC and mobile phones. One of the famous names to mention is PUBG, Fortnite, Rules of Survival with great popularity, and a huge number of players around the world.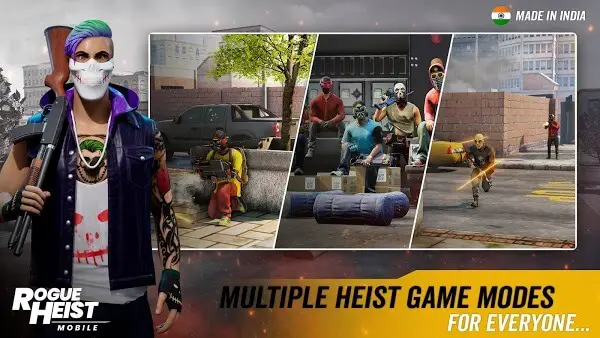 Realizing a potential market, game companies scrambled to roll out battle royale games to keep pace with the market trend. And MPL – Mobile Premier is one such company. Especially after the event that PUBG Mobile was banned in the Indian market, MPL Rogue Heist is more and more expected by gamers. Although not able to outperform the famous names, MPL Rogue Heist still satisfying fans thanks to the thrilling top fighting phase.
Gameplay
MPL Rogue Heist is set in a confrontation between two factions of police and robbers. Unlike other games when the bandits will have to flee and overcome challenges that the police create. In the Rogue Heist MPL, both sides share the same goal. They can coordinate with each other or find a way to outplay the opponent. Thanks to this element of fairness, MPL Rogue Heist delivers many dramatic matches with turbulent action.
Each team in MPL Rogue Heist has a maximum of 6 players. Each person has their own task, search for packages on a map or hack into the system to collect data. The team that gets the first three packages will be the winner. Of course, things will not be easy because the members of the rival team will always find ways to ambush or steal the items you are holding,…
Characters
In MPL Rogue Heist, you can choose 1 of 4 character classes such as Sniper, Assault, Hacker, or Support to incarnate. Each character has a certain mission. Assault, for example, will be responsible for pioneering, wielding heavy weapons, and sweeping opponents. Meanwhile, Sniper hides on tall buildings and supports his teammates with sniper shots. Hacker and Support will complete the task of hacking the parcel quickly.
Game mode
This is one of the notable highlights of MPL Rogue Heist. Currently, the game is providing two main modes to give players the best experience. If you prefer target-driven combat through events then the Heist mode is the right choice. This mode requires high teamwork and players need to complete a series of goals in place.
Gang war mode is where you will enter a timed match with many other players. Here you will have to compete with other players and complete the kills in a certain amount of time.
Install MPL Rogue Heist APK + OBB
To install MPL Rogue Heist APK, you need to follow some steps below.
Download the MPL Rogue Heist APK + OBB file below this article.
Unzip the OBB file and move it to the Android/Obb folder.
Proceed to install the APK.
Open and experience.
Download MPL Rogue Heist APK for Android
With the release of MPL Rogue Heist APK, the Indian developer hopes this game can help grab the market occupied by Free Fire and help home gamers forget the PUBG name.