Last updated: November 25, 2020
| | |
| --- | --- |
| Publisher | CUPGUM |
| Category | Simulation |
| Version | 0.8.0 |
| Size | 75M |
| OS Suport | Android |
| MOD Features | APK Only |
| Get it on | Google Play |
In Transport City: Truck Tycoon APK, you will manage a transport company in a large city. The job of a manager is very hard, will you complete this assigned job well?
Introducing Transport City: Truck Tycoon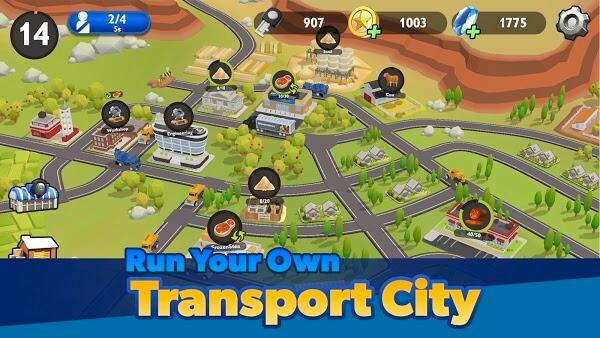 The city simulation games always attract the attention of the player thanks to the authenticity that it brings. Today, I want to introduce to you a new simulation game called Transport City: Truck Tycoon. This is a product from the independent developer CUPGUM. Coming to this game, you will become a city-wide transport chain manager, tasked with completing the work of delivering goods to specified locations. The game has been released on both iOS and Android platforms. However, you can download the APK file for free by following the link we provide below.
Become a smart manager
In Transport City: Truck Tycoon, you will become the manager of the largest transport company in the city. Every day a lot of orders everywhere need to be fulfilled, your task is to deliver vehicles and deliver them to the exact location. Sounds a bit boring when there isn't a lot to do right? But you are wrong. Transport City: Truck Tycoon allows you to do a lot of things from mining to building, gathering, distributing, etc., You will find yourself busy playing this game all the time.
Epic car collection
Transport City: Truck Tycoon offers players a large truck collection of up to 20 different vehicles. Not only different in shape and design, but each car is designed to suit a certain task. And your job is to choose the right vehicle for the assigned task. For example, pickup trucks suitable for collecting raw materials, small trucks that deliver goods to shops, construction trucks specializing in housing, shops or factories, etc.
Hire reasonable workers
Not only do you need to distribute the right vehicles, but hiring also has a definite impact on whether your tasks are completed on time or not. Transport City: Truck Tycoon will provide a list of different drivers and you can choose the best ones to hire. The more quests you complete, the more money you can earn. From there you can hire new drivers, upgrade vehicles as well as facilities to expand your transport company.
Easy to play
As a game designed to be played on mobile phones, Transport City: Truck Tycoon has a minimalized control system. The operation and controls are extremely simple, you don't need any personal experience to play this game. The only thing you need to do is press- to build, press to collect, press to distribute,…
Download Transport City: Truck Tycoon APK for Android
Transport City: Truck Tycoon owns simple 3D graphics, entertaining gameplay is not too stressful. Overall, this realistic simulation game is more about time management than controls, so you can play it with just one finger. If you are looking for a suitable game to entertain in your spare time, Transport City: Truck Tycoon is my suggestion for you.