You will get a different view of monstrous creatures (Often said to be cruel and aggressive) after experiencing DRAGON QUEST TACT APK. Download now the latest version of this game and participate in unique battles.
Overview information
| | |
| --- | --- |
| Publisher | SQUARE ENIX Co.,Ltd. |
| Category | Role-playing |
| Version | 0.1.0 |
| Size | 132M |
| MOD Features | No |
| Get it on | Google Play |
| Rating | |
Introducing DRAGON QUEST TACT
If you like role-playing games with cute graphics, DRAGON QUEST TACT will definitely be the right choice for you. While this game from publisher Square Enix is ​​still in its pre-registration phase, you can still test it out thanks to the version we provide below. For now, let me take a look at the basic content of DRAGON QUEST TACT!
Gameplay
Monsters are often thought of as dark, evil, and evil. But have you ever thought of playing and forming a team full of adorable monsters, participating in battles, and winning? If yes, test DRAGON QUEST TACT. This game has a very simple and fun gameplay. You just need to recruit hordes of monsters, arrange them into a team, and attend the match. DRAGON QUEST TACT levels are usually played on a small scale, making it easier to control the battle. You are completely in the power to decide every move of the monster, using individual tactics to ensure the fastest victory. Going to higher levels requires more difficulty, do not forget to research the battlefield and enemies to find the best strategy for the team.
Monsters
When you win a level, you will be a bonus on Battle Road. The rewards that DRAGON QUEST TACT offers are quite rich including gold coins, materials, and if you're lucky you can get a whole new type of monster. Monsters are also divided into several categories and are usually classified alphabetically (eg A, B, C, S, etc.). Each monster species will have different skills and characteristics. The more you understand their features, the easier it is for you to develop their capabilities on the battlefield.
To help his army become stronger, players need to upgrade monsters in the team. Using them regularly in battles is a way of gaining experience points for monsters. Experience points are used to level up monsters and help increase attack stats. In addition, equipment is also a way to help your army become stronger.
Graphics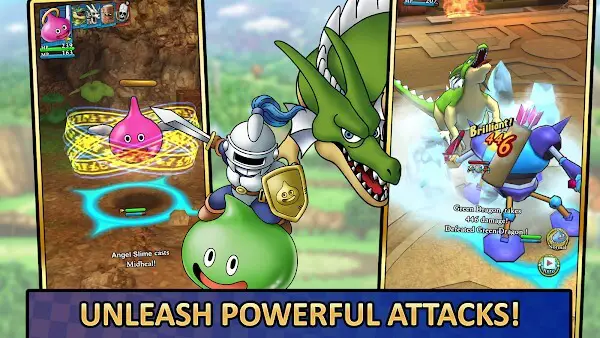 DRAGON QUEST TACT is designed in a classic 2D style, suitable for gamers who want to experience the feeling of nostalgia. In particular, the cute monsters in the game are meticulously designed by the creator of the Dragon Ball – Akira Toriyama legendary series. Also, the music designed by Koichi Sugiyama is a big plus. The background music and many suitable melodies make the matches more intense.
Install DRAGON QUEST TACT APK
To install DRAGON QUEST TACT APK, you need to follow some steps below.
Download the DRAGON QUEST TACT APK file below this article.
Proceed to install the APK as usual.
Open and enjoy.
Download DRAGON QUEST TACT APK for Android
DRAGON QUEST TACT APK is an entertaining game full of elements, action, fighting mixed with fun, suspense. With simple gameplay, even if you are a player who has never experienced the game, it is very easy to approach.