Can a crab own a large beach? Well, that sounds a bit ridiculous, doesn't it? But with King of Crabs, your mindset will have to change. Download now the MOD APK version of the game is becoming a trend today and become the champion in King of Crabs.
Overview information
| | |
| --- | --- |
| Publisher | Robot Squid |
| Category | Action |
| Version | 1.11.1 |
| Size | 209M |
| MOD Features | Unlock All Crabs, Zoom Up |
| Get it on | Google Play |
| Rating | |
Introduce about King of Crabs
Do you remember the game that once made headlines on the gamer forums – Slither.io? King of Crabs is also a similar game. Researched and released by Squid Robot, King of Crabs was quickly released and became a fever that is not inferior to his brother of the same genre. You're probably thinking, if King of Crabs has gameplay like Slither.io, then why could it become a trend? Please join me to find out the answer below this article.
Gameplay is familiar but fun
Starting the game, you will be thrown to a largely deserted island. There are no people here, only the sea, white sand and all kinds of plants and animals. As a small grayish-brown Crab, you must start your survival by searching for other crustaceans to eat. The crab in King of Crabs is quite omnivorous, it can eat fruits scattered in the sand such as coconuts, berries, and other small crabs and turtles.
In this wild world, animals are forced to compete fiercely to survive. While looking for food, you will come across other huge crabs targeting you. Do not be foolish to fight with it, try to run away and feed until adulthood. Becoming a hunter or being hunted depends on your playstyle.
Weapons
The interesting thing about King of Crabs is that your crab does not only fight the opponent with the big bigger. They can even use the weapons picked up around them to attack opponents larger than themselves. Have you ever seen a crab use a baseball bat to beat bigger crabs? Coming to King of Crabs, you will see it with your own eyes.
Game modes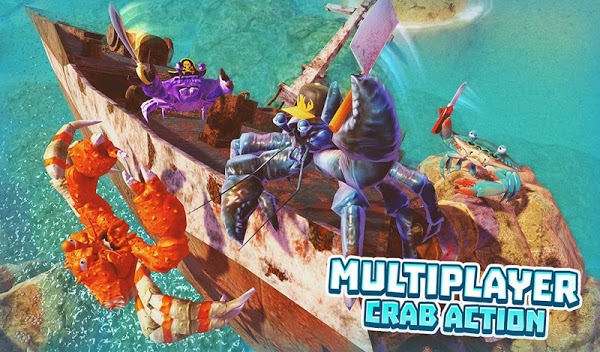 King of Crabs provides players with two main modes: King and Friendly. True to its name, the Friendly mode allows players to live with crabs of their own kind to feed and survive. The main goal is to eat small animals that roam across the vast map and become the biggest crab.
In addition, King mode offers PvP battles that are combined between battle royale and .io games. You will be taken to an island with a certain number of other players. Eat small animals and fight other players until you become the last one to survive, it's your goal at King. The screen will display two bars of green and blue, corresponding to your life and your ability to move. Both bars will fill automatically over time (the blue bar fills faster). When you realize your green bar is about to run out in the fight, run away and continue to feed to fill it. If your mana bar is depleted, your points will be lost and you will have to start the race all over again.
Eating small animals, plants or fighting other crabs will help you earn extra points. The bigger and stronger the opponent, the more points he can earn. However, please do your best to avoid getting hurt as much as possible.
In addition, in the latest update, there are also two new modes. Buddy mode allows players to alliances with other crabs and starts their journey. Meanwhile, Spectate mode lets you watch pro players overcome challenges. You will probably learn a lot of experience or tips from them.
Unlock new crabs, equipment and items
King of Crabs provides players with many different types of crabs, ranked from Common, S, Rare, Mega Rare,… Every day you will be provided with certain free spins in Play Royal. If you want to spin more, you'll have to spend pearls (One of the King of Crabs premium currency). The spin will help you find more items and equipment (Hats, weapons,…). You can also upgrade and even unlock new, super rare crabs. They come in different sizes and shapes and colors. Each type will have specific pros and cons, as well as different gameplay.
MOD APK version of King of Crabs
MOD feature
Unlock All Crabs
Zoom up: Expand Horizons
Note: It is necessary to enable MOD Menu before playing. Buy 1 item in the store to unlock all Crabs.
Download King of Crabs MOD APK for Android
Currently, King of Crabs is one of the trendy games. Unique 3D graphics, great background with beaches, temples, wrecks, caves,… and super-addictive gameplay. Certainly, King of Crabs MOD APK will be on the list of my favorite games. How about you?